ABOUT THE PRACTICE
Michigan SKIN Associates introduces the expansion of Edwards Hair Restoration Group - specializing in hair loss and hair restoration. Dr. Edwards has been treating hair loss medically for over 10 years, and is happy to add procedural and surgical hair restoration to her practice. Dr. Edwards treats hair loss (alopecia) in women and men, has a special interest in hair loss affecting women of color. She offers hair transplantation surgery, platelet rich plasma, low level laser therapy, and traditional treatments, as well as a full spectrum of diagnostic tools to ensure proper diagnosis.

Michigan SKIN Associates will continue to provide medical and surgical Dermatology services. Common problems include acne, eczema, psoriasis, keloids, warts, rashes, evaluation and removal of moles, skin cancers, and other skin growths. Reema Sutariya, PA-C is our primary general practitioner, working closely with Dr. Edwards.

SKIN Spa, the cosmetic arm of Michigan SKIN Associates offers safe and effective options to correct or improve wrinkles, discoloration, and the skin's overall appearance, with minimal down time. Aesthetic services include chemical peels, microdermabrasion, facials, waxing, and phenomenal skin care products to use at home.
MEET DR. EDWARDS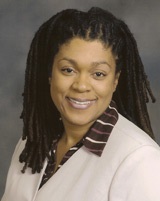 Dr. Bobbi Edwards is a Detroit native. She attended Detroit Public Schools, receiving her high school diploma from Renaissance High School. She completed her undergraduate studies at Howard University, in Washington D.C., graduating with a Bachelor of Science degree in Microbiology. She then returned to Detroit to attend medical school at Wayne State University, graduating in 1994.
Dr. Edwards' Dermatology residency training was done at Henry Ford Hospital in Detroit. She completed her training and became Board-certified by the American Board of Dermatology in 1998. Her recertification examination was successfully passed in 2007 and 2018. She opened her private practice affiliated with Providence Hospital in 2001. She is also a staff physician at the Detroit Medical Center's Sinai-Grace Hospital. She holds medical licenses in Michigan, Illinois, and Washington DC.
She has maintained professional memberships in:
American Academy of Dermatology
American Society for Dermatologic Surgery
International Society of Hair Restoration Surgery
Wayne County Medical Society
Oakland County Medical Society
American Medical Association
Michigan Dermatological Society
Michigan State Medical Society
CONTACT US
Bobbi Edwards, M.D., P.C.
19315 W. 10 Mile Rd
Southfield, MI 48075
Phone and Fax
(248) 483-8488
(248) 483-8489 (f)
Office Hours
Monday- Thursday: 9:00 AM to 5:00 PM
Friday: 9:00 AM to 1:00 PM
Map and Directions
Navigate the map below for location details and directions: