Welcome to SKIN Spa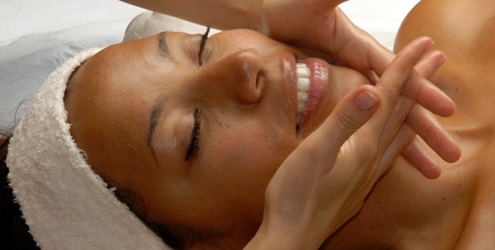 Our aestheticians are experienced in facials, waxing, makeup application, and cosmeceutical product knowledge and will be happy to develop a skin care program to meet your needs.
Chemical Peels
$75/treatment, $360/six treatment package.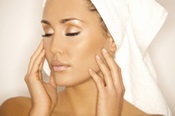 For years, we have used chemical peels and acid treatments to make skin appear younger, and improve acne and discoloration. Dr. Edwards offers glycolic and salicylic acid peels as in-office treatments. These superficial peels are safe for all skin colors and types, and have very few side effects. They are repeated every 2-3 weeks until the desired result is achieved.
Spa Facials
$45-75 per treatment
European Facial
You'll feel revived, relaxed, and rejuvenated with our genuine Aveda products designed to cleanse, tone, and exfoliate the face. The European Facial includes a deep cleansing mask, massage, and extraction of blackheads (if indicated). This is a great treatment for skin cleansing and complexion brightening that will leave your skin feeling transformed and refreshed. Ideal for normal-to-oily skin.
Hot Stone Facial
Our popular European Facial with the addition of a penetrating and soothing hot stone massage.
Express Facial ("The Lunchtime Facial")
If you're on the go, this treatment is for you. 30 minute cleanse, exfoliation, tone, and mask.
Aromatherapy Facial
Relieve headaches and sinus pressure with our facial for the mind and body. Enjoy our signature express facial incorporated with essential oils and pressure-point massage.
Oxygen Facial
Let your skin breathe again! Skin is oxygen deprived as early as your 30s, leading to a dull, dry appearance. This facial infuses oxygen below the skin surface, restoring your youthful glow.
Rosacea Facial
This treatment corrects the sensitive, red face with gentle cleanser, steam, a natural peel, serum mask, and cool stone massage.
Acne Management Facial
This deep-cleansing facial is delivers antibacterial & drying benefits for oily, acne-prone skin. This facial will target & treat existing acne lesions and is recommended every 2-4 weeks for visible reduction of acne and oil control.
Anti-Aging Facial
Revive your skin with our anti-aging/multivitamin facial that improves dark spots, wrinkles, elasticity, and tone to restore your natural glow. This treatment features our exclusive combination of olive oil, cucumber bead cleanser, vitamin C, Coenzyme Q10, and growth factors.
Natural You Facial
Packed with natural products for the holistic-minded patient, the Natural You Facial features our meticulously-customized mixtures of honey/sugar, olive oil/sea salt, aloe, green tea, rose water, and egg white.
Men's Facial
Problems with hair bumps, irritation from shaving, and dark spots? Improve your skin texture and tone with our exclusive products followed by a relaxing neck and shoulder massage.
Back Facial
Acne and dark spots on your back? We can help with our customized back facial. Relax and receive a deep-cleansing massage and exfoliation that will detoxify the skin and relieve stress.
Back Facial + Hot Stone Therapy
Makeup Services
Makeup Service featuring Afterglow Organic Mineral Cosmetics.
Makeup Color matching - NO CHARGE
Complete Makeup Application - $25